Kirstin am 5. Juli 2008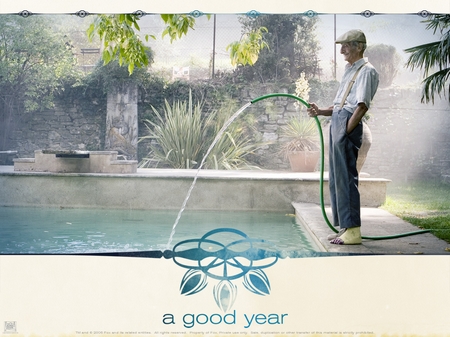 Onkel Henrys Worte, nachdem Maximillion seine Tennismatch-Niederlage nicht verwinden kann:
"Ein Mann sollte seine Niederlagen ebenso würdevoll hinnehmen wie seine Siege. …. Ein Mann lernt nichts durch das Gewinnen - es sind die Verluste und Niederlagen die ihn weise machen - und wenn es nur die Erkenntnis ist, daß es mehr Spaß macht zu gewinnen."
Aus dem Film: "Ein gutes Jahr" mit Russel Crowe. Hier der deutsche Trailer.
Ein anderer Dialog, über den ich herzhaft lachen mußte:
Max:
Gibt es ein Gesetz in Frankreich, das es verbietet mit seiner Cousine zu schlafen?
Sein Anwalt:
Nein - nur wenn sie häßlich ist.
Abgelegt unter Nachdenkliches | 12 Kommentare
12 Kommentare zu "Sieg und Niederlage"
Danke für diesen wunderschönen Eintrag.. und hilf mir bitte auf die Sprünge, aber ich kann mich nicht mehr daran erinnern, was der gute alte Mann auf dem Bild oben mit seinem linken Fuss gemacht hatte.. ???

Itb4s really coouegaurs to believe in oneself up to the point of making a living out of oneb4s own creativity. Itb4s a fucking dream come true. And as you say, itb4s even more so when one has to support someone else with it. Ib4m sick and tired to death of being looked down on because I support my son by cleaning high class peopleb4s shit. Ib4d rub the shit in their faces!Well, keep making music. For those who hasnb4t been coouegaurs (yet) like me, it is wonderful to think that thereb4s a possibility and until it happens thereb4s your music to inspire us. It may not sound really flattering, but I usually listen to Clann Zfa while Ib4m working and dreaming of flushing those high class bastards down the toilet. It make wonders! I leant that you existed through one of those programs for downloading things, but I consider your music to be worthwhile enough to take some money of my reduced budget and buy it. Itb4s been ages since I last bought an original, it has to touch me somewhere inside to do it. If you ever see a crazy Spanish woman singing your songs at the top of her lungs up in the North of Spain, that may be me.Greetings from Cantabria. Hope that you give a concert somewhere near.

Economies are in dire straits, but I can count on this!

Action requires knowledge, and now I can act!

Thinking like that is really amazing

Thinking like that shows an expert's touch

Hey, subtle must be your middle name. Great post!

This is the perfect way to break down this information.

This article is a home run, pure and simple!

It's like you're on a mission to save me time and money!

This is both street smart and intelligent.

Dag nabbit good stuff you whippersnappers!
Einen Kommentar schreiben